This has just been released. It is a subject in the public interest.
This has to change. Pedaphilia should not be covered up and the age of consent is absolutely NOT to be under 16.
Why is sexual abuse so prevalent? What stops a person feeling for the pain of a child? What is the blocker inside them that makes it okay. That normalises indifference to suffering?
I recall Senator Heffernan publicly distressed when the Royal Commission into Child Sexual Abuse would not broaden its terms of reference when he had cited a police document in relation to an Australian Prime Minister. See his speech below. He speaks of pedophiles.
A former Australian prime minister is on a list of "alleged paedophiles" that Liberal senator Bill Heffernan claims forms part of a police document.
Senator Heffernan used a Senate estimates committee hearing on Tuesday to discuss the list of 28 people, which he said formed part of police documents that had been "signed off" by Gary Crooke, QC, the former senior counsel assisting NSW's Wood royal commission into police corruption in the 1990s. Mr Crooke declined to comment when contacted by Fairfax Media on Tuesday.
Liberal senator Bill Heffernan claims that a former Australian prime minister is among 28 'alleged paedophiles' named in a police document.Coronavirus: NSW records zero new cases
Many of the people on the list and otherwise named in the documents were "prominent", including a former prime minister, Senator Heffernan said: "They were delivered to me by a police agency some time ago because no one seems to want to deal with them."
Every Commonwealth attorney-general since Philip Ruddock had seen the list, Senator Heffernan said.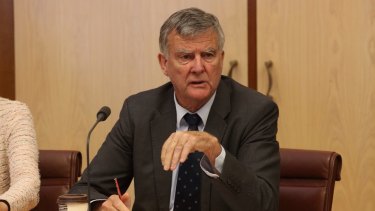 https://www.smh.com.au/politics/federal/liberal-senator-bill-heffernan-says-former-prime-minister-a-suspected-paedophile-20151020-gke2o0.html
Senator Heffernan had shown the documents to the Royal Commission into Institutional Responses to Child Sexual Abuse but was told they were not part of its terms of reference.
The commission, which was established in 2014, has inquired into child abuse in a wide range of institutions, including sporting groups, churches and after-school care services. It has power to look at abuse that occurs in an institutional context, in "any public or private body, agency, association, club, institution, organisation or other entity or group of entities of any kind (whether incorporated or unincorporated)".
Attorney-General George Brandis, QC, said he did not have a copy of the documents.
"I'm not in position to second-guess [the commission], but I think we should respect the decision of the royal commission about any decision about the ambit and scope of its terms of reference."
Senator Heffernan has previously used parliamentary privilege to falsely accuse a former judge of using Commonwealth cars to procure young men for sex in 2002. He was later forced to apologise.
Senator Heffernan called for the commission's terms to be changed to include the "institution of the law".
He accused former royal commissioner Justice James Roland Wood of refusing to investigate lawyers who had allegedly attended a Kings Cross "boy brothel".
"I did ask the commissioner why. He said he'd deny if I ever mentioned it. I think it's time to mention it in view of the good work of the royal commission," Senator Heffernan said.
"[The commissioner] said, 'We've decided not to revisit that issue because the public would lose confidence in the judiciary.'
"I think it's time, like our churches and other institutions, who are now facing up to the truth, I think it's time the institution of the law faced reality."
The senator said he had a list of all of the lawyers who allegedly attended the club, some of whom were still practising.
It is unclear whether this was the same or separate to the police document he claimed contained a list of alleged paedophiles.
Senator Brandis said: "Just because someone's name appears on a list doesn't make them guilty, and if there are serious allegations … they should be put in the hands of the police. Nobody is above the law. I don't comment on your general allegations, but no one is above the law."