'Tearing down the walls' is Survivor's answer to the Holocaust
'Tearing down the walls' is Survivor's answer to the Holocaust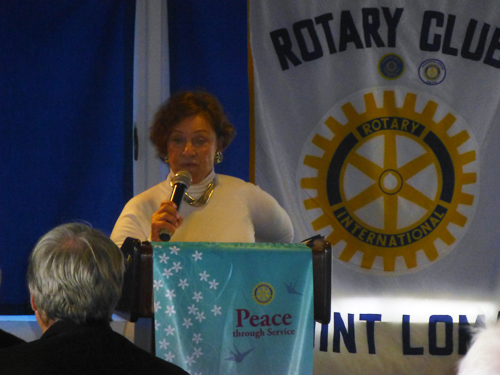 By Donald H. Harrison
SAN DIEGO — The contrast between the speaker's surroundings and her subject matter was vivid on Friday, Feb. 8, at a Point Loma Rotary Club meeting.  
The weekly get-together was held in an upstairs room of the San Diego Yacht Club, with header beams above the windows festooned with burgees from yacht clubs around the world and the glass cases filled with trophies celebrating the victors in such contests as "Largest Game Fish," "Largest Yellowtail," "First Gamefish of the Season" and "Largest Marlin by a Woman Angler."
Frances Gelbart, today a resident of suburban Carlsbad, California, was there to tell about her experiences as a 10-year-old child from Krakow, Poland, who survived five concentration camps, including Auschwitz, before her liberation from Mauthausen Concentration Camp in Austria.   Sixty-eight years after her liberation, she said she still doesn't like to talk about what happened to her, but added that she feels an obligation to the women in the camps who mothered her, gave her extra bread, helped her in assemblies and marches to remain inconspicuous, and urged her to "live" and "to tell the world what happened."
At least the weather on Friday afternoon–gray skies with intermittent rain– matched the mood of her subject,  the Holocaust being one of the gloomiest periods of modern history.
Born Francheska Immerglȕck, she said her maiden name was a source of amusement to Nazi guards because translated from the German it means "always lucky."  During a selection at Auschwitz, she was asked "is it true you are always lucky?" and she responded "I hope so."  The Nazi sent her to the right — to a work camp — instead of the left, to the gas chambers,  where most children were sent soon after arrival.
In a calm, soft, slow voice, she recounted the outrages that she saw, heard and experienced during the Holocaust.  She said her job at Auschwitz was to segregate and fold the clothes stripped from Jewish inmates to be sent to Germany.   Near her barracks was the facility where she heard screaming and crying — the place where medical experiments were performed on twins.   She was told that contained in the meager meal portions including insufficient portions of bread,  watered coffee, and grass soup  was something to prevent women from menstruating.  Her clothes worn year round were a striped jacked, striped shirt and wooden shoes.   Like other prisoners at Auschwitz, she had an identification number tattooed on her arm — and today when she mentions this at schools, she hears from students such questions as "couldn't you have refused?"
From Auschwitz, she was moved during winter in an open wagon to another camp, stopping for three days at a railroad siding to permit German troop trains to go through.  There was nothing to eat,  she was covered in ice and snow, and two of her toes became gangrenous, she related. 
Even after all these years, she said, she can never forget the sight of Nazi soldiers killing babies, taking them "by their feet and hitting them against walls…. Now, as an adult, I can't imagine any human being could do that."
Pausing for a moment, she said, she doesn't hold the German people responsible, but rather the SS and the Gestapo.  "Personally," she said, "I have nothing against the German people.   It's too bad that history is following them."
I was sitting at a table with Nestor Suarez, principal of Cabrillo Elementary School,  which is located just a few blocks from the San Diego Yacht Club.  We acknowledged each other's thoughts.  Cabrillo has a "sister school" relationship with a school in Neuahus an der Oste, Germany,  the hometown of Louis Rose, who in 1850 was San Diego's pioneer Jewish settler.  In 1869, he became founder of the "Roseville" area of San Diego's Point Loma neighborhood where the Yacht Club is located. 
The sister school relationship has evolved into Cabrillo Elementary School offering a German language program to its students from kindergarten through fourth grade, all the better for them to be pen pals with their counterparts in Neuhaus, a town close to the North Sea.
Gelbart said the only answer to the Holocaust is for people to "love each other."
"We are trapped together on this planet," she said.  "We have to be good to each other. … Tear down the walls."
*
Harrison is editor of San Diego Jewish World.  He may be contacted via donald.harrison@sdjewishworld.com