Australia follows, is that in the public interest given the creation of circumstances which are collapsing our economy and making us dependent. Is that wise? What is sovereignty in truth? As a citizen I care nothing for propaganda, cyber warfare, them vs us, information control, satellite based surveillance and smart cities. I see where it is all going. I care about the suffering I see in the Australian people who have had their livelihoods destroyed, who are experiencing restrictions, who are contemplating ending their lives tonight. I send love to my people. I send love to the United States. I send Love to Russia, I send love to China. I ask for all to awaken the dragon.
Posted on April 19, 2020 | Views: 325
by Lisa Chiu: It's More than Just Your Sign…
The well-trodden (no pun intended) story of the Chinese zodiac is cute, but a bit trite. The tale usually begins with the Jade Emperor, or Buddha, depending on the teller, who summoned all the animals of the universe for a race, or a banquet, depending on the teller. The 12 animals of the zodiac all headed to the palace. The order that they came in determined the order of the zodiac. The order is as follows:
Rat: (1984, 1996, 2008, add 12 years for each subsequent year)
Ox: (1985, 1997, 2009)
Tiger: (1986, 1998, 2010)
Rabbit: (1987, 1999, 2011)
Dragon: (1976, 1988, 2000)
Snake: (1977, 1989, 2001)
Horse: (1978, 1990, 2002)
Ram: (1979, 1991, 2003)
Monkey: (1980, 1992, 2004)
Chicken: (1981, 1993, 2005)
Dog: (1982, 1994, 2006)
Pig: (1983, 1995, 2007)
During the journey, however, the animals got involved in everything from high jinx to heroism. For example the rat, who won the race, only did so through guile and trickery: it jumped onto the back of the ox and won by a nose. The snake, apparently also a little sneaky, hid on the hoof of a horse in order to cross a river. When they got to the other side, it scared the horse and beat it in the contest. The dragon, however, proved to be honorable and altruistic. By all accounts, the dragon would have won the race as it could fly, but it had stopped to help villagers caught in a flooding river cross safely, or it stopped to assist the rabbit in crossing the river, or it stopped to help create rain for a drought-ridden farmland, depending on the teller.
My question to Australian Defence forces, given you are not a super power the aim is not to win as we are a small power, but what if it is to help with the real war that catalysed the bush fires, the floods, climate change, pollution, poverty and next will be famine (food security).
Colonel Jim Channon recommends that the military be deployed to restore planetary systems and work as a force for peace. Why not work for 100% of humanity in the shortest time (Buckminster Fuller). Jim was featured in the film "Men that Stare at Goats" which starred Jeff Bridges and George Clooney. This is his planning document that many in defence have looked over. He was a popular speaker as he stepped outside of the military box yet he knew the military. https://wearethemutants.com/2018/06/12/warrior-monks-and-video-technoids-documents-of-the-first-earth-battalion-1979-1982/
The only winning is when we all win. That is homeostasis.
https://www.news.com.au/technology/innovation/military/australia-defence-budget-270b-earmarked-on-new-weapons-fleets-troops/news-story/090f76eb6bf090e3ab315ef9d6f8dd30 Australia defence budget: $270b earmarked on new weapons, fleets, troops
Australia defence budget: $270b earmarked on new weapons, fleets, troops
The PM has announced billions will be spent on new hypersonic weapons, spy satellites and missile shields to keep intruders away from our waters. Benedict Brook and AAP85 commentsnews.com.auJuly 1, 20202:14pm
UP NEXT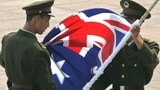 Australia has 'revolutionised its position on Chin…4:21MuteLoaded: 6.92%1:210:00Stream Type LIVERemaining Time -7:13Current Time 0:00/Duration 7:13Video Qualitymedium (576p)Video AutoplayLog inPremium FeatureSwitching off the video autoplay is available only to news.com.au subscribers. If you are a subscriber, please log in and access the video settings again.‹ BackHighMediumLowFullscreen1xPlayback RateCaptions
captions settings, opens captions settings dialog
captions off, selected
PM warns Australians to prepare for a 'more dangerous, more disorderly world' Beijing's South China Sea reaction 'doesn't correspond with reality'
Liberal MP Dave Sharma has downplayed talk of tensions with China over Australia's submission to the United Nations rejecting Beijing's maritime claims in the South China Sea.
An artists impression of a US X-51A Waverider hypersonic vehicle used to demonstrate hypersonic flight which is all the rage in weapons. Picture: AFP PHOTO / US AIR FORCE /Source:AFP
Australia will ramp up defence spending to $270 billion over the next decade as the country prepares for a "post-COVID world that is poorer, more dangerous and more disorderly," the Prime Minister said this afternoon.
Around $90bn of that will be spent on advanced new kit, including "hypersonic" weapons, fighter jets and a cyber warfare capability. Australia will also put its own spy satellites in space.
It's a ballsy move designed to project Australia's military might, show it can hit back if provoked and give it more muscle on the world stage.
But Mr Morrison thinks it's necessary, telling the Australian Defence Force Academy today that, "the Indo-Pacific is the epicentre of rising strategic competition."
"We have seen recently on the disputed border between India and China, in the South China Sea, and in the East China Sea."
Prime Minister Scott Morrison announces today that the Government will invest $270 billion over the next 10 years to upgrade the capability and potency of the Australian Defence Force. Picture: Adam Taylor/PMOSource:Supplied
China is extending its influence into Pacific areas where Australia, New Zealand and the US have long been the pre-eminent powers.
RELATED: Big holes in Australia's defences north of the 26th parallel
The aim is for Australia to not only to guard its patch of the Pacific but also fend off cyber-attacks and warfare. The budget boost will see the ADF grow by 800 personnel.
"The Indo-Pacific is where we live. We want an open, sovereign Indo-Pacific, free from coercion and hegemony, Mr Morrison said.
---
Just as relations have deteriorated with China, so Australia's has been increasing its military links to India and other nations on our side of the world.
In the 2020 Defence Strategic Update and the new Force Structure Plan, released by Scott Morrison today, he announced defence spending would hit at least 2 per cent of gross domestic product in the 2020/21 financial year. The government will give Defence $270 billion over the next decade – up from the $195 billion promised in 2016.
The PM said Australia needed stronger deterrence capabilities to "influence their calculus of costs involved in threatening Australian interests".
"The simple truth is this: even as we stare down the COVID pandemic at home, we need to also prepare for a post-COVID world that is poorer, more dangerous and more disorderly," he said.
Australian authorities have raised recent concerns over cyber-attacks from China and Russia, terror cells throughout the Indo-Pacific and the shifting regional power balance between China and the US.
NEW WEAPONS, SATELLITES AND JETS
Defence will get lots of cash to spend on fancy new technology.
The first cash splash is almost modest compared to what is also on the cards, with the ADF to get the US built AGM-158C long range anti-ship missiles, at a cost of $800 million.
AGM-158C long range anti-ship missiles which Australia is buying $800 million worth of.Source:Supplied
Australia then intends to spend $10bn to jump on the hypersonic bandwagon – the must have missile of the 2020s.
These hypersonic weapons, if they can be made to work, have two major benefits. Firstly, they are incredibly fast and can head towards the enemy at speeds of greater than Mach 5. Secondly, they can duck and weave in an effort to evade enemy defences.
That's in contrast to current long-range missiles that follow a predictable arc as they head towards their target.
These could be used to protect critical shipping lanes that Australia depends upon. For instance, 90 per cent of the oil Australia uses is imported and much of that passes through Singapore.
A hypersonic missile built by Boeing. Picture: US air forceSource:News360
Chinese People's Liberation Army concept art showing hypersonic projectiles falling among a US carrier battlegroup.Source:Supplied